We're Up on Fort Dodge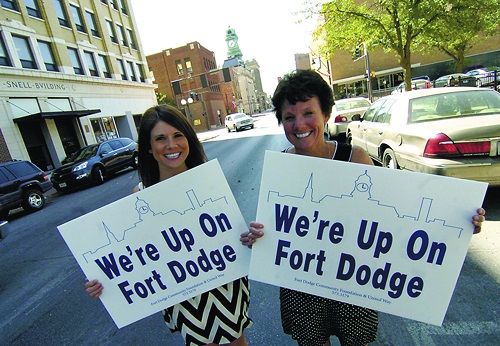 We have many reasons to feel good about Fort Dodge and the region today. Economic development and growth potential is at an all-time high thanks to new companies like Cargill and CJ Bio America coming to our community and other local companies expanding. New retail establishments and restaurants are opening around our community, and planning for the revitalization of our downtown area continues.
Our community is looking better every day with projects like the Corridor of Commerce, other community enhancements and the great work by the PICA volunteers. Parks and recreation in our community have never been better thanks to improvements at Oleson, Snell-Crawford and Harlan Rogers Parks, our new trail system, a new aquatics park, river trails and much more.
"We're Up on Fort Dodge" is a theme we will promote throughout the year. Promoting this positive message can help develop a community optimism that inspires a sense of hope and a can-do spirit. Our hope is that people will catch the spirit and embrace a positive attitude about Fort Dodge.
Yard signs, posters and other promotional materials will be used to engage people in the effort to be Up on Fort Dodge. Anyone interested in placing a "We're Up on Fort Dodge" sign in their yard or at their place of business can pick up a free sign at the Fort Dodge Community Foundation Office, 24 N 9th Street, Suite B, Fort Dodge.