About Us
The Fort Dodge Community Foundation is an independent, 501(c)3 public charity that enables people with philanthropic interests to support causes they care about in Fort Dodge, Webster County and North Central Iowa. The Fort Dodge Community Foundation creates long-term assets and makes grants to better our community and improve its quality of life.
The Fort Dodge Community Foundation develops lasting legacies for community-minded citizens through funds that are designed to support the charitable goals of donors. From these funds, grants are made in support of a wide range of charitable causes and non-profit organizations that address a broad scope of current and long-term community needs and community betterment opportunities.
The Fort Dodge Community Foundation is a unique philanthropic organization. In July 2007, the United Way of Greater Fort Dodge and the Community Foundation of Fort Dodge and North Central Iowa merged into one philanthropic organization. Merging the two organizations provided the opportunity to leverage administrative resources and reduce duplication in philanthropy. This collaborative model is the first of its kind in the nation and offers our community and region a "one-stop-shop," for community-based charitable giving.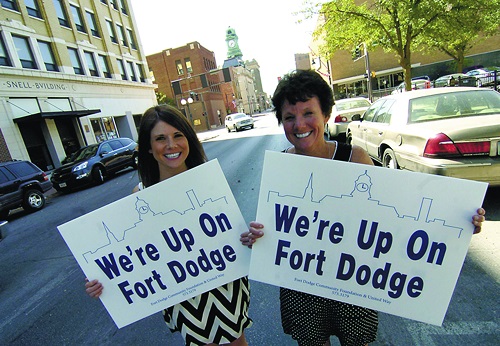 The Fort Dodge Community Foundation makes a constant effort to stay ahead of emerging issues in our community and county. We work in partnership with civic, business, nonprofit and government leaders to identify and address important community needs and opportunities that will enhance the quality of life in our community and region.
The Fort Dodge Community Foundation meets the National Standards established by the Council on Foundations for U.S. Community Foundations, which are philanthropy's most rigorous standards. Community foundations that meet these standards have demonstrated that they abide by the highest legal, ethical and effective operating practices, financial oversight, transparency and accountability.
The Fort Dodge Community Foundation works hard to earn the trust and respect of our community so it can effectively serve as the entity in Fort Dodge/Webster County for community-based philanthropic giving. We encourage citizens to invest in their community through the annual United Way community campaign and by establishing endowment and donor advised funds for the purpose of investing in the future vitality, growth and development of our community.
Our Mission
To serve as a catalyst for charitable giving - developing charitable resources to support important community programs, services and projects that will benefit the public good and improve the quality of life of all citizens, families and youth in Fort Dodge, Webster County and North Central Iowa.
Our Vision
To serve as a strong and vital community foundation, providing positive, effective, and innovative leadership to foster community betterment and to serve as an agent for advancing community growth and development. Using our charitable resources, we invest in the well-being of all citizens, families and youth, and help Fort Dodge/Webster County become a progressive and prosperous community - a place where people will want to live, work and raise their families.
Why Support Us
We are local and we support local projects, programs and services. The funds established with us are invested back into the community to improve quality of life and advance the common good of citizens, youth and families in Fort Dodge, Webster County and North Central Iowa.
We make a permanent difference. Gifts to the Community Foundation work long into the future. The Community Foundation was built to last. Donors can feel secure that our staff, volunteers, investments, and mission are organized to strengthen our community in perpetuity.
We know our community and our community's needs. We offer donors help in identifying effective ways to aid the community that they call home. We help donors direct their giving to target specific problems, causes or interests.
We can insure anonymity. Some donors prefer their gifts remain anonymous. The Foundation can serve as the conduit for grant making to meet donor objectives and maintain donor anonymity.
We make complicated gifts easy. We help donors make gifts in a cost and time effective way. We are able to accept a variety of assets and support multiple organizations through one fund, and help donors leave a legacy.
We offer tax advantaged gifting opportunities. Through various planned giving vehicles, we can provide donors with numerous charitable giving plans that offer attractive tax saving opportunities and advantages.