U.S. Statistics on Youth Literacy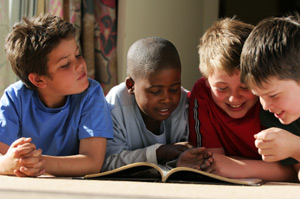 "Reading is learning. It expands your mind and is the most effective weapon against intolerance and ignorance." - Abraham Lincoln
Reading is the only form of entertainment that is also an essential life skill. It is something you can do no matter where you are. The ability to read will help children to better comprehend subjects at school. One will find that most children with learning disabilities have a problem with reading and related language skills. Children with poor reading skills end up receiving poorer grades, get easily distracted and frustrated, have behavior problems, dislike like school and fail to develop to their full potential.
Nearly 1/3 of U.S. children entering kindergarten are 1.5 years behind their peers.
By first grade, disadvantaged students have a vocabulary that is half of that of advantaged students.
Children who cannot read proficiently by the end of third grade have approximately a 78% chance of never catching up.
Learning to read proficiently impacts a person's ability to learn, think and process information at higher levels.
Children who have not developed proficient literacy skills by the end of third grade are four times more likely to drop out of high school.
Over one million youth drop out of school each year – costing the nation over $240 billion in lost earnings, forgone taxes and expenditures for social services.
44% of U.S. fourth graders cannot read a grade level story fluently.
The U.S. ranks 12th among the 20 industrialized countries in literacy.
50% of our nation's unemployed youth (16-21) are functionally illiterate.
75% of people on welfare and/or food stamps are functionally illiterate.
85% of unwed mothers are functionally illiterate.
85% of all juveniles who interface with the juvenile court system are functionally illiterate.
60% of criminals in prison are functionally illiterate.
In the U.S., the average child spends 4.0 hours per day or more watching television or playing video games and spends less than 20 minutes a day reading a book, magazine or newspaper.
Research shows that reading helps you:
Write better
Expand your vocabulary
Concentrate better
Be a better learner
Process new information more effectively
Become a better critical thinker
Become a better test taker and score better on exams
Open a window to the world
Develop other interests when you know more about them
Develop an ability to understand how others think and feel
Become more open to new ideas
Stay well informed and talk well
Keep the mind active well into old age

"The more that you read, the more things you will know. The more that you learn, the more places you'll go." - Dr. Seuss